Testimonials: 4 Reasons Why You Should Major in Comparative International Studies
By Marjon Saulon, Outstanding Graduation Senior 2019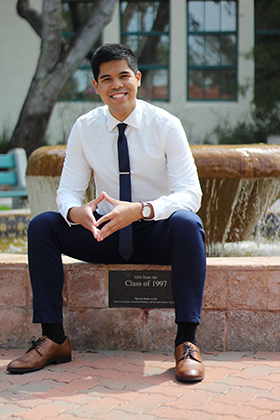 In a world of ever-changing movements, technological advancements, and political fractions, becoming a global citizen is needed more than ever.
Comparative International Studies (CINTS) is a unique interdisciplinary program that allows you to develop a wide variety of writing, language, and research skills while preparing for the increasingly linguistic and multi-ethnic workforce. It is designed to educate students on the global forces that shape societies and governments around the world, across the disciplines of both the humanities and the social sciences.
It is also the fastest-growing major in the College of Arts and Letters, the largest college in a university of over 35,000 students.
As a Comparative International Studies graduate, my experience in the major has allowed me to explore the depths of the Great Wall of China and prosecutorial offices of Shanghai, as well as the diverse communities of San Diego. It has empowered me to work in several public offices in San Diego, and as a staff member at a consulate.
Here are four reasons why you should major in Comparative International Studies:
1. Flexibility
The major requires you to choose a primary and secondary region to which you will have a selection of classes to choose from. The regions are Africa, Asia (General), Asia (China), Europe, North Africa and West Asia (Middle East), and Latin America and the Caribbean.
In my experience, I had the flexibility of choosing classes that ranged from European Literature, Chinese Politics, and Biocultural Anthropology, to Buddhism, Linguistics, and Contemporary Filipino-American issues. While some may argue that such classes do not translate to jobs, they taught me how to view our current world problems with perspective, and to learn the history behind social and technological movements in an effort to create solutions.

While I ultimately learned that political science classes peaked my interest, the major taught me the importance of learning the governing and cultural forces of the world, with classes in religion, history, and sociology
2. Develop In-demand Skills
When I talk to seasoned professionals about hiring young talent in both the corporate and public sector, they often boil it down to the most basic skills: effective communication and adaptability. In fact, LinkedIn stated that the top 3 most in-demand skills for 2019 are creativity, persuasion, and collaboration.
Though majors in STEM require in-depth learning of factual and theoretical knowledge, much of the value in liberal arts degrees lies in the essential skills that are honed, not simply the knowledge gained.
For example, throughout my time in CINTS, I took classes that required extensive research and writing. My professors in History and Women's Studies were adamant about creating a specific argument backed with facts and evidence. I learned that arguments should be based on facts and intellect, rather than opinions and biases. I also fine-tuned my oral skills in my senior capstone class. I used storytelling techniques and anecdotes, and received constructive feedback for improvement. To fulfill the minor in language requirement, I took Chinese classes and improved my mandarin skills.
I learned that while I have learned incredible amounts of information throughout this major, it is the essential skills of writing, language, public speaking, and research that have allowed me to excel in my current role as a consulate staff member and law school applicant.
3. Gain Worldly Experience
In any major urban city in the United States, you will find yourself working with people of different cultures and customs in the office. Having actual experience in adapting to cultures other than your own will be critical to developing effective communication skills. Studying abroad is an excellent gateway in doing so. CINTS, like many other majors at SDSU, requires you to take part in a study abroad program. While timing and costs are often an issue, SDSU offers many scholarships and programs to alleviate such concerns.
I spent part of my summer in 2018 taking part in a criminal justice program in China, led by a San Diego city attorney and public defender. I loved it. I experienced making a closing argument in court, traveled to the prosecutorial office in Shanghai, and gained valuable insights as to how a country's justice system is intertwined with its culture and history. I traveled with the great friends I made, and we visited some of China's most historic sites, including the Great Wall.
Once I returned, I realized that opportunities don't have to be limited to the United States. I was reminded that the skills of empathy, patience, and proactiveness are universal and translatable to any job or office you work for.
4. Be in an environment of experiential learning
Because of the broad, interdisciplinary nature of the program, you will be able to explore a multitude of opportunities outside the classroom. In my experience, I interned at a consulate in Taiwan, wrote constituent letters for an elected San Diego official, managed a public outreach program for the district attorney's office, and now write articles on community leaders for a local newspaper.

For any student in the liberal arts, gaining real-world experience and skills will allow you to supplement the classes you take. In CINTS, because I was brought to the classrooms of professors who had worked in politics and international non-governmental organizations, I was able to receive sound advice on how to maximize my time in the program. I learned how to network effectively, and learned to be diligent and proactive in seeking job opportunities.

To conclude, Comparative International Studies brings the best of both theoretical and experiential knowledge. I learned how to be adaptable and confident in proactively seeking future career and graduate school opportunities. I experienced living in foreign countries, while practicing patience and empathy. I was exposed to relevant work opportunities, and now aspire to live a life of public service as a result.
This major does not guarantee success. It is broad and experimental. It can however, lead you to success if you take advantage of its flexibility, cultural exposure, and work opportunities. Like college in general, the major is what you make of it.
Comparative international studies is an excellent program for those who aspire to be a public servant, foreign service officer, or non-profit leader. It is for those who are idealistic and pragmatic. Those who aspire to make a meaningful impact in the world as it is, with the hopes of transforming it to the world as it should be.